Before Stourbridge:
Landscape, settlement and territory
by
K James BSc(Hons) MSc PhD FIAP
THE FULL VERSION IS AVAILABLE TO DOWNLOAD:
Before Stourbridge, revision 08/04/2013

To read the PDF document you will need a copy of Adobe Reader, which is available from Adobe's web site by clicking the button below.

DOCUMENT SUMMARY: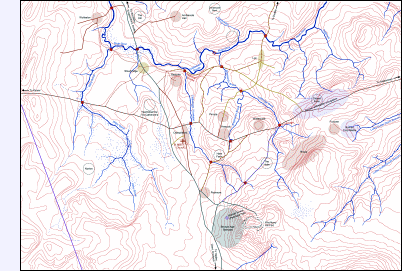 Though Stourbridge is, in many respects, a medieval market town it is centred upon a much older network of through roads and minor settlements that date back to the Anglo-Saxon period or before. Many familiar place names, such as Amblecote, Foxcote, Wollaston and Oldswinford derive from Old English (i.e. Anglo-Saxon) words, as do some less familiar names of local fields and streams; and this is indicative of widespread settlement around Stourbridge in the first millennium.
This article discusses local place names, and combines these with evidence from surviving landscape features (e.g. the first-century Roman road, the iron-age Wychbury hill fort and the Wollaston Ridge dykes) and ancient documentary sources, such as Anglo-Saxon charters and the Domesday survey, to infer the distribution of agricultural land, settlements and woodland in the area prior to the Norman conquest.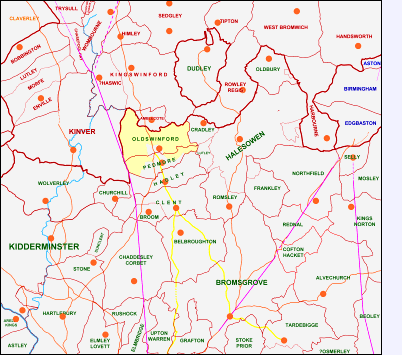 It also examines the geographical coincidence of various local boundaries, which hints at much earlier territorial origins. For the last 1000 years or so, the region has been organised into an administrative system of manors, hundreds and shires. These divisions, as well as their ecclesiastical counterparts, the parishes and dioceses, have endured with little change until relatively recently and seem to have derived from a pattern of Anglo-Saxon estates and provinces. These, in turn, may well have evolved from prehistoric territorial units which had persisted throughout the Roman occupation. The ancient boundary network in the vicinity of Stourbridge is particularly interesting, as the town lies near to the junction of ancient counties, ecclesiastical dioceses, Anglo-Saxon kingdoms and iron-age tribal regions.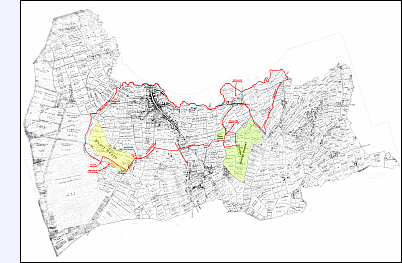 The probable chronology of the town's development is also described, and the article discusses the origin of Oldswinford manor and parish as well as the evolution of the sub-manor of Bedcote. It also highlights a number of familiar features of the local landscape which may have been crucial factors influencing the early configuration of settlement and agriculture in the area.